In the news and a new book!
In the News – First for Women magazine
I am super excited to announce that I am highlighted in the current issue of First for Women!
So many things came together to make this happen from responding to a Help a Reporter Out query, coordinating for weeks with writer Lisa Maxbauer Price, and taking the bus to NYC to do a photoshoot with Michael Keel (special thanks to Joanie James for hair and makeup and pressing my wardrobe).
This article will NOT be online, you'll have to find it in the print edition – available in the US AND CANADA at your local B&N, grocery store, Walmart, CVS, gas station – look around and find the December 17, 2018 edition with Reba McEntire on the front! (and me on page 34-35)
---
You asked for it!
So many of you told me that as you were reading Come Back Strong, Balanced Wellness after Surgical Menopause, you thought of a friend or family member that would benefit from the book, however they probably would never read it because it was about menopause. You especially liked the chapter on Thoughts, Words, and Feelings.
That chapter is now available on Amazon, in a Kindle Single. I stripped out the wording on menopause and made it more generic to setbacks. After all, we all have them, right?
And depending on the intensity and duration, they can leave you feeling out of balance, misunderstood, frustrated, anxious, and depressed. It is common to lean into the sadness and chaos of our situation. After all, there's nothing you can do, right? You just have to suffer through this season until the tribulation passes? It's part of life. Isn't that true?
However long you've been struggling with your challenge or setback, you can decide today to lighten up, take action, and go to work to rebuild your mind toward more positive emotions.
Get your copy for you or someone you love today: Lean in or Lighten Up: Rebuilding your mind toward more positive emotions
With love, gratitude, and kindness,
Lori
p.s. I loved the Cauliflower Stuffing!
---
Additional reading: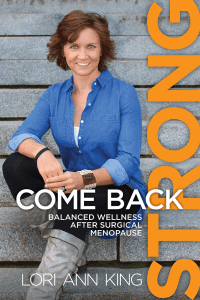 NOW ON SALE!
$9.99 Paper back
$6.99 Kindle
From my blog:
In other News
About the Author
I am an author, instructor, speaker, and Isagenix Independent Associate and Team Builder inspiring people to live a life of true health, love, laughter, and freedom.