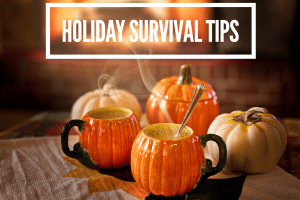 The traditional holiday dinner packs an average of 3,000 calories.
Considering that the recommended daily caloric intake for women ranges from 1,400 to 2,000 this puts ONE MEAL at approximately a third more than a full day's requirement!
Add to that the busyness of the season, skipped workouts, stress, and extra socializing and we can feel out of sorts by the time the New Year rolls around.
Here are a few tips to keep your holiday healthier and on track with your goals.
Plan a post-meal walk or other activity. Depending on the weather, plan to get outside for a walk or game of family football. Have a fitness instructor in the family? Ask them to do a mid-day "class" to get everyone moving. If you are stuck indoors, a Wi or other game system will get you moving and if all else fails, turn on some music and DANCE!
Move around and mingle. Avoid the kitchen or appetizer area where you are tempted to graze.
Plan a workout date with your partner or a friend for the morning before, day of, and day after the holiday.
Portion control. By keeping your portions small, you can still enjoy your favorite holiday dishes.
Fill your plate with protein & veggies first! Then, for your second round, enjoy smaller portions of the more decadent dishes.
Hydrate! This will keep hunger at bay.
Skip it! Decide what you can live without. Perhaps the appetizers, the alcohol or the dessert. Each one alone could easily add 1,000 calories to your day!
Not hosting? Bring a healthy dish to pass. A salad or veggie platter.
Eat slowly: Eating slowly gives your body enough time to realize that you're full
Stay active: Stick to your workouts, even if you have to shorten them temporarily. Remember to schedule it on your calendar just like any other important commitment.
Quality Sleep: Sleep can become something we sacrifice when the holiday season kicks in. You may stay up late to wrap gifts or clean the house, trying to fit it all in. Or you get up early to get that extra workout in. It is not worth sacrificing your health and emotional wellbeing. Everything in life becomes more difficult without good quality sleep.
Reduce Stress: It is common to want a vacation to reduce our stress, but that's not always an option. Incorporate daily habits that help you reduce stress, whether it be yoga, meditation, a walk outside, or even a gratitude journal.
Finally – have FUN this holiday season! Enjoy the traditions and mix in some healthy habits and recipes. Here are a few I'm excited to try:
With love, gratitude, and kindness,
Lori
---
Additional reading:
From my blog:
---
This post contains affiliate links. For more information visit my Affiliate Disclosure page.