In 2017 I wrote my first book, Come Back Strong, Balanced Wellness Surgical Menopause. It was so fulfilling and rewarding to create something that has the potential to inspire others to live a life of true health, love, laughter, and freedom.
I love holding the paperback in my hands and seeing it in my local bookstores. Publishing a book was an amazing achievement that keeps getting better, as it went on to be an Amazon best seller! Since then, I've had the opportunity to talk with women from all over the world who have read my book, and let me know how much it helped them in their own journey, and not just with menopause, but with whatever challenge they were facing in their own life, including divorce and heart attack.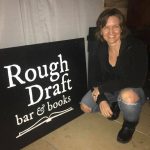 Many people have also shared with me how they have always wanted to write a book, but they simply don't know where to start. Here are my top ten tips on how to get started on your journey to becoming an author.
Write.
Write daily. Whether it is in a journal, notebook or on your computer, set aside time each day for the creative process. Build it into your schedule as an appointment with yourself. It can be 15 minutes or 3 hours. You may not always know what to write, but keep building the practice and sit down and begin. It may start out with "I have no idea what to write today but here is what is on my mind…" and let it flow. You don't need to edit as you go, just make it a daily consistent habit.
Surround yourself.
Find local writing group and book clubs to attend. Meetup.com is a great resource, as are Facebook events, and your local library, bookstore, church, or YMCA. Surround yourself with local writers, editors, publishers, authors, and speakers. Ask questions of others who are more experienced and have achieved the success you seek. Often, you will have the opportunity to read your work and get constructive feedback. Be open to the positive comments as well as those that sound negative. It is all beneficial to you finding your voice and your niche audience.
A local writing group is where I met my dear friend and writing partner, Holly Winter!
Connect online.
We have so many amazing online tools such as Facebook, Twitter, Instagram, and LinkedIn, just to name a few. Search for authors, editors, and publishers and follow or reach out to them. LinkedIn is where I found my editor and publishing consultant, Stephanie Gunning. You never know when an online connection is going to be of value to you down the road.
Join HARO.
HARO stands for Help a Reporter Out. You can register as a source for journalists looking for input for upcoming stories and receive daily opportunities to secure valuable media coverage. Check your inbox daily and watch for source requests relevant to you or your industry, expertise or personal experience. Then, send your pitch! If the journalist is interested, they'll reach out!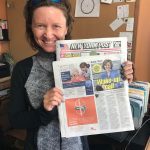 This is how I got featured in a New York Post article "The hidden sleep epidemic that's ruining women's lives."
This article led to a connection with Tina Vaitkus who interviewed me on her radio show, The Tina Show.
It is also how I connected with Maryann Karinch, Writer, Literary Agent & Human Behavior Expert. Maryann is writing a book of Stories of Intimacy after Menopause and I am blessed to be a contributor. Her book is due out in 2019.
Get a website.
Your website is where people can go to learn more about you. It is also where you will build your blog, build your audience, and build your brand. Be sure to let people know how to connect with you by phone, email or social media.
Begin a Blog.
Make sure your website has the option for you to blog. You are a writer after all. Set a goal to write a blog each month, every other week, or weekly. Blog about what you love and what is on your heart. Share it on social media. This will help build your audience.
Add an opt-in to build your list.
Regardless of where you are in the process of writing a book, start today to build your list. Your website should have a page, sidebar, popup etc where people can enter their email address to stay connected. You can offer something of value as an incentive for people to connect (such as 10 Simple Tips for Balanced Wellness and Healthy Living.) Imagine if you start today, and launch your first book in two years. You could have a fairly large audience to notify when the time comes. If they have been following your blog, they are likely to purchase your book. But, don't just build the list. Be sure to stay in touch with them on a consistent basis. Send an email letting them know where you are at in the process, other books you are reading, and other valuable content. Most important, be yourself. Don't be fake or try to be someone your not. With patience, your audience will grow.
Ask for what you need.
Be bold in asking for likes, shares, join your newsletter, write a review, buy your book… You don't have to be obsessive about it. If you are blogging and connecting regular and offering quality content to your audience, then occasionally you can ask for assistance. People WANT to see you succeed. And, they will want to help you if they can.
Be a guest blogger.
Look for other blogs that are already established that are similar to your passions and audience. Ask if they would consider you as a guest blogger. This will give them a break so they can refresh their creative juices and, has the potential to expand your audience. Here are a few places I was able to contribute:

Women Rule The World: Preparing your Mind for a Healthy Lifestyle
Jessica Cording's Real Food For Real Life blog: Hosting a Healthy BBQ

Get published locally.
Look for local newspapers, almanacs, and magazines to submit articles to. Some will pay you, some won't, but this will build your resume, your audience, and it may even get you noticed. I was over the top excited when my first article was published locally in the Van Wyck Gazette.
BONUS: Join your local Toastmasters.
Do you want to become a confident public speaker and strong leader? If so, Toastmasters is the place for you. You'll find a supportive learn-by-doing environment that allows you to achieve your goals at your own pace. The beauty is, every speech you prepare is a chance to write. This will also prepare you for any book talks, author signings or other events to promote your book.
I hope you enjoyed these top ten tips toward becoming an author. If you or someone you know wants to write a book, please share this with them or tag them in the comments below. Also, if you are a published author, please comment below and be sure to include a link to your work!