Even if you don't love football or sports in general, you can find something to love about Superbowl weekend. Perspective and curiosity are everything.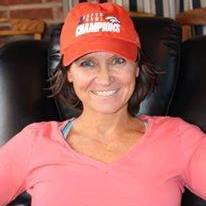 I love a good football game. I've been a Broncos fan since my days at Western State many moons ago. But I find myself cheering for a lot of different teams, in honor of family and friends. I cheer for the
Bills in honor of my dad.
49ers for my hubby and his son.
Bengals for hubby's granddaughter.
Giants in honor of my nephews and brother-in-law.
Steelers for days long gone.
Over the years, I even learned to enjoy watching Tom Brady. I have to respect the pure magic of his ability.
Most of all I love the athleticism, the competition, the passion, the fight, the giving-it-all-you've-got and leaving-it-all-on-the-field aspect of sports. I love that on any given day, any team or individual can be declared the winner. A goal and dream accomplished.
[ For a fun break, check out this FUN video from my hubby from January 2016… his true feelings revealed, and a small hint about our competitiveness ]
But there is so much joy to come from this weekend if we just look for it. If we just live in our curiosity and stay open to a new perspective. For example…
The Marketer in Me Loves Superbowl Commercials
We all have those that stick in our minds whether it's
Larry Bird and Michael Jordan Showdown (McDonald's)
Where's the Beef (Wendy's)
Like a Girl (Always)
Betty White (Snickers)
WASSAP, Frogs, Dalmations and Clydesdales (Budweiser)
Apple, Monster, soda, chips and snacks, cars, you name it, you can find it with a simple search for the best commercials of all time. Head on over to YouTube and you'll fill yourself with inspiration, laughter, and a bit of nostalgia.
The Creator in Me Loves the Superbowl Halftime Show
As a writer, I can appreciate what it takes to create and share your art with the world; even when it's not a style of music I typically listen to. Over the years we've seen
Michael Jackson
Janet Jackson
Prince
Stevie Wonder
The Rolling Stones
Again, a simple google or youtube search will have you reliving some of these epic musical moments.
The Wellness Advocate in Me Loves Superbowl FOOD!
Over the years I've shared many a football food photo, whether it's football devel eggs, watermelon helmets, or chocolate-covered strawberry footballs.
I've also enjoyed my fair share of Superbowl party food, from wings to pizza to beer and more. Most years, I look for healthy options to balance things out
And most years I've reminded myself and others: "Tomorrow we cleanse!"
The Reader in Me Loves the Authors
Let's face it, we can find a book about ANYTHING and EVERYTHING. Here are a few ideas for you to discover a new author or book around the Superbowl theme:
And you can find books BY or ABOUT ALL of this year's halftime show performers:
So, whether you are watching the game, the halftime show, the commercials, the Puppy Bowl or heading AWAR from all things football for a getaway, ENJOY it! The world needs more joy and people doing what they love.
P.S. The Advocate in Me…
I'm well aware of the concept that there are more domestic violence incidents on Super Bowl Sunday than any other day of the year. I'm not here to discuss whether that is myth or fact. Domestic violence is a serious issue and in my human opinion, there is way too much anger, hate, and violence in the world.
We all need more love, gratitude, and kindness.
Here are a few tips and reminders for this weekend.
If you drink alcohol, alternate your drinks with water, eat food throughout the day, and never, ever, drive after drinking.
If you know you are a "volatile" sports enthusiast, there is a chance your team will lose. Do NOT take your frustration out on your loved ones. Stay chill. Phone a friend, Go for a run. Take a breath or a break.
If you can take a look at your life and recognize that alcohol, drugs, or anger are a problem, get help.
If you are so inclined after reading this, please consider donating to your local domestic violence shelter.