As a runner for 24+ years, I loved the independence. I could strap on my shoes and fly solo out the door on my time and at my pace. That being said, I am the first to admit I was also a very half-assed or half-fast runner.
I started training in the weight room in 2007. People have come and gone and come back again. During this season in my life and in my training I am SO FREAKIN GRATEFUL for the peeps that work out with me, coach me, encourage me, push me, and believe in me. Yes, there are days where I have to borrow from their belief. And it pays off. The accountability and support keeps me excited, motivated and growing stronger than I could on my own.
I've seen this play out in other areas as well. A strong support system is key to success!
Health Collaborations
My friend Amy decided to go after her health goals and reached out to me for support. I shared with her how nutritional cleansing has helped me and she got started. We live 4 hours apart, so my support comes through phone, text, social media, and snail mail.
On her first cleanse day, two of her local friends, Susie and Robin, jumped on board and cleansed with her! These three amigos sailed through their day and came out on the other side feeling energized! In Amy's own words:
"I feel very empowered and clear headed!!! Wow that's a first!"
It was so neat to watch the thread of group texts of the three encouraging and supporting each other.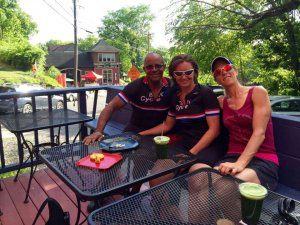 Now, check out this beautiful second part:
Four hours away, two of my coaches and besties, Jim and Lauren joined me (a cord of 3 strands) to send Amy, Susie and Robin (a cord of 3 strands) additional prayers, positive energy and support, cheering them on through the day, evening, and even the following morning.
Talk about collaboration!
Business Collaborations – Networking and Connecting
The same thing can happen in business. In my industry, when we go it alone, we are in sales. When we link arms with at least two others, we become networkers and team builders and dream weavers! We become powerful and empowered collaborators! We connect and assist and meet so many more people and effect this world for good when we do it as a team or tribe!
Partner With God
For where two or three are gathered in my name, there am I among them. (Matt18:20)
We were not meant to go through life alone. Even the God of the Universe desires relationship with us. We get to partner with God! Imagine that. It comes through prayer and meditation and action.
Swolemates
My husband Jim and I share a passion as athletes. One passion is the bike. Another is with strength training. Jim has trained me in the gym since 2007, sometimes one-on-one, some days in a group. In 2012, we met Susan in a TRX class Jim was teaching. From day one, she was consistent. She showed up. Over the years, we've become friends, beach buddies, business partners, and training buddies or "swolemates."
Swolemates play an essential part in your growth, improvement and motivation.
Together, the three of us have become stronger, healthier athletes than any one of us could alone. It's often a conversation that doesn't require words. It's an energy we feel and give freely to each other.
On my weakest days, where all I can manage is to show up, Jim and Susan are there, feeding me their energy, lifting me up, supporting and encouraging me. And knowing how much they are giving and putting gin, how hard they are working, inspires me to dig a little deeper and work a little harder.
How About You?
Who are two of your closest peeps? Have you asked them to join you on your journey? Have you linked arms with them? Have you invited them on your road to success?
Stronger Together
I would love to hear about your dreams and goals!
My passion is twofold:
To assist individuals and families with their own health solutions (Weight loss, energy, performance, graceful aging)
To show people how to add an additional stream of income by helping others and getting ridiculously healthy in the process.
Why I do what I do is all about FREEDOM: health, time and financial. I want to help more people say YES to the things they previous had to say no to.
Lori Ann King is a writer, healthy lifestyle coach and sports nutritionist. She can help you live a life of true health, love, laughter and freedom. Become the miracle you were created to be! Let Lori Ann King guide you on your journey toward your dreams! Stop living small and contact Lori Ann King now!