I believe these are two values that we all need to keep in the forefront of our minds. Whether it is permission to tell your story or permission to hug, kiss or touch, you can never go wrong by asking permission first. And regardless of your beliefs, values, and opinions, remember to be kind. (To yourself included)
I participated in two events over the past two weekends. The first was an author event in Albany, NY. One of my fellow authors just published her first book called Women Who Were Sexually Abused as Children. Conversations amongst the authors from "behind the table" were very real, very raw, and very divided. The Ford -Kavanaugh case is still fresh in our minds and hearts. For victims of sexual trauma, even those who have healed and/or forgiven, this often opens old wounds and can stir up some heavy emotions.
There were those of us who support and believe Christine Blasey Ford. There were others, who simply do not. There were mothers who fear for their sons in this "new" world. As a mother, how should they advise them? How should they teach them to respect boundaries, and not live in fear that someone might one day accuse them of something they didn't do?
I admit I was a bit shocked to be having this conversation. So much so that I was at a loss for words as to how I should respond. Could I see this mother's point? As strongly as I believe Dr. Ford, she strongly believes Kavanaugh. She feels Ford is lying at a time when it could hurt Kavanaugh the most. And if this woman would lie, what about others? What should she be teaching her son on how to live his life? How should he behave on a date?
In that moment, I didn't have an answer for her. It is hard for me to believe someone would ever make something like this up. I know it is possible and it has happened. Still, hard for me to wrap my head around.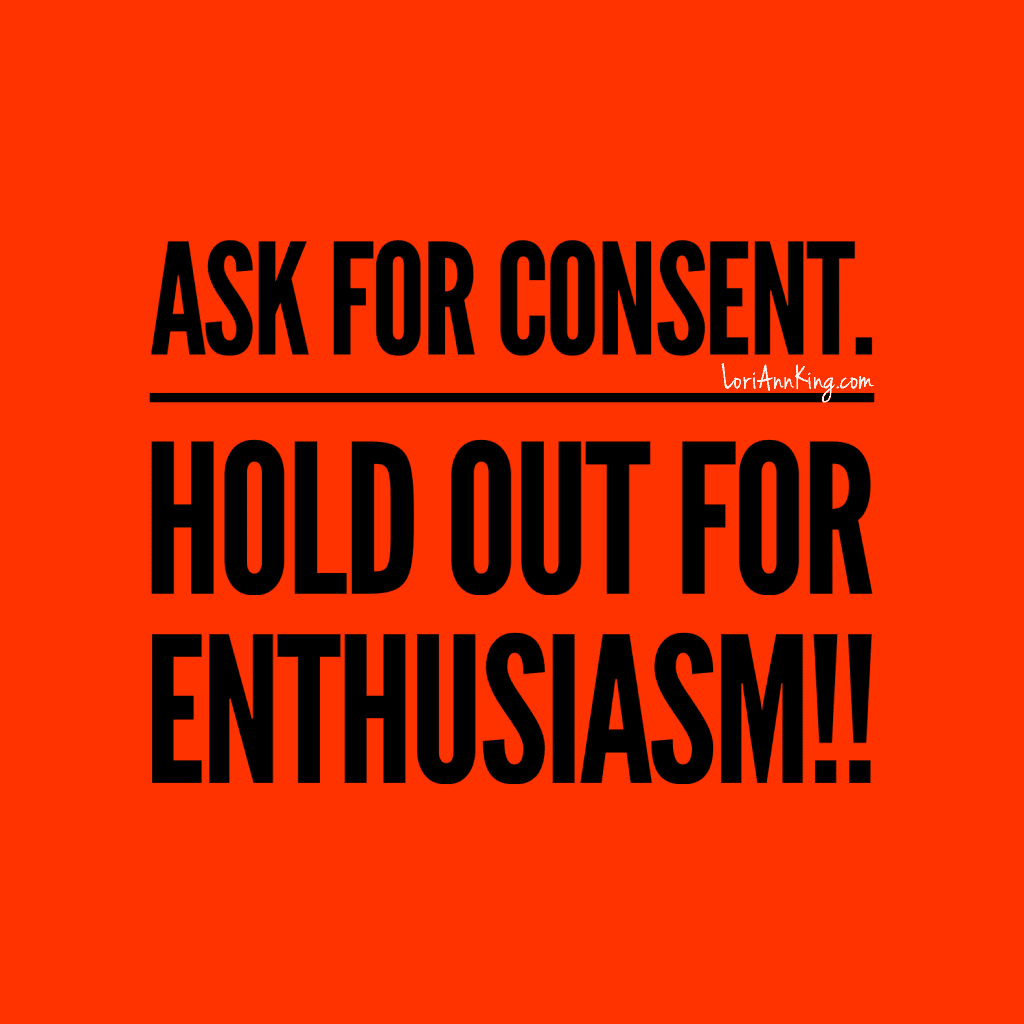 Fast forward a week to an event at Omega Institute with Glennon Doyle and Abby Wambach called Find Your Truest Life. Three hundred women came together for a sacred weekend and formed a #wolfpack. Stories were shared about losing a child or a loved one, having a terminal illness, experiencing betrayal, and struggles with forgiveness, just to name a few. We talked about boundaries, love, Jesus, Buddha, and Oprah. We discussed equality, discrimination, and #metoo. Our overall consensus was that we live in an age where it is essential that we ask permission before we touch someone. Whether it's asking someone (especially children) to give you or someone a hug (yes, even aunts, uncles and grandparents), a kiss from your date, or something more.
As the discussion got a little heated, one voice cried "Ask for Consent!"
To which another voice responded, "And Hold Out For Enthusiasm."
Yes. Absolutely. Ask for consent. Hold out for enthusiasm.
As a bonus for our #wolfpack, Glennon and Abby interviewed Elizabeth Lesser, co-founder of the Omega Institute and the Omega Women's Leadership Center. Lesser is an author and speaker, and gave a talk at the first TED Women conference in 2011, Take "the Other" to Lunch. She shared with us a simple message of how both sides of any conversation can begin real dialogues, by going to lunch with someone who doesn't agree with you.
Our instinct is so often to retreat to opposite sides and continue our standoff. We are so busy trying to prove we are right that we stop listening, and we forget to be kind.
What if instead, we were to live in our curiosity, ask bigger and deeper questions, and at all costs, stay kind and respectful toward one another? After all, the angry tension between sides does not get us closer to solutions.
With love, gratitude, and kindness,
Lori
---
Additional reading:
(contain affiliate links)


Coming April 16, 2019: #WolfPack
American soccer star Abby Wambach helped bring her team to Olympic gold, and now she wants to help all women score big with her new book, Wolfpack.
---
This post contains affiliate links. For more information visit my Affiliate Disclosure page.