The New Year ushers in new beginnings and often, new commitments. Commitments to be healthier, to complete a fitness challenge, to save more, grow your income, change jobs, grow your faith, improve your relationships, etc. And yet so often the things we start, go unfinished. Why? Stuff happens.
The dog dies. Your lover/partner leaves you. You get laid off. You get the flu or worse, are diagnosed with an illness. And then there are the GOOD distractions. You move. Fall in love. Find a church home. Get married. Change jobs. Win a sports competition or fitness challenge. Buy a new car. Go on a Missions trip.
Good or bad, distractions still have the potential to derail us from the things we set out to do. Stuff happens.
Today, I encourage you to finish what you start. Embrace the mindset that no matter what comes, come hell or high water, you will finish what you start.
A prime example from my own life is the IsaBody Challenge. This is a 16 week challenge that is judged based on a before and after photo, as well as a 250-500 word essay. There are categories for weight-loss, energy and performance, and graceful aging. I can complete 3 challenges per year to win nutritional products, cash, prizes, training and trips. But more than that, it is a chance for me to challenge myself to be my best in health and in fitness. And it gives me the opportunity to start and finish something I set out to do.
In 2014, my first challenge took me from 19% body fat down to 11% body fat. I felt amazing. Confident. Sexy. Healthy. Strong. I learned so much along the way about nutrition, metabolism, strength training, building lean muscle, and fueling my body. I leaned that body building is a combination of
ART: carving and crafting your muscles into something you, the artist finds aesthetically pleasing,
SCIENCE: creating the right timing and balance of proteins, carbs, & fats to get the results you desire AND finding out what sugar, caffeine and processed foods or imbalance does, and
EMOTION: the many reasons we eat albeit emotional, social, recreational, comfort etc..
I also learned about myself. That I could push beyond my comfort zone. That I could dig deep and finish not when I was tired. but when the workout or the challenge was complete.
"Much of the stress that people feel doesn't come from having too much to do. It comes from not finishing what they've started." David Allen
The hard work and discipline earned me an Honorable Mention in my first challenge. I had already started challenge #2 and was planning on improving my results. However, stuff happens.
36 hours before my "after" photos for this 2nd Challenge, I ended up in surgery having a mass removed from my cervix. By doctor's orders, there would be no flexing for photos. And, this was just 13 days after a colonoscopy. These two procedures wreaked havoc on my body. The morning of my photos, I felt lousy. I knew I was not at my best. I was bloated and the abs I knew I had worked hard for, would not show through.
I was tempted to quit and start over, however I knew that would not serve me. That would be playing small. I was committed to finishing what I started. Was the finished product what I had hoped for? No, but as they say in racing "dead last is greater than did not finish (DFN) which trumps did not start." Simply completing something I said I would do felt amazing and is now propelling me forward.
The key to my body's healing and recovery is top notch nutrition and rest. I am grateful for nutritional cleansing to assist me to get back on track. My body is indeed recovering from the process. I am feeling stronger every day again and I am looking forward to maintenance photos in 8 weeks and then my next 16 week Challenge.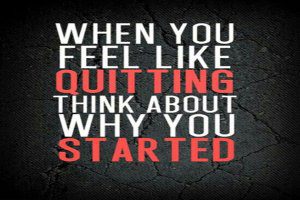 So, what about YOU? What are your goals this year? What are you dreaming of? What are you starting? Or maybe your midway through something and you've lost some momentum. Remember WHY you started.
Give yourself permission to succeed. To complete what you start. Have the mindset that you will finish!
I encourage you today to embrace the mindset of FINISHING what you start. Knowing full well there will be distractions, both good and bad. Stuff will happen. Life will throw you curve balls. But stay the course. Steady on. Finish what you start.
Ready to take action?
Lori Ann King is a writer, healthy lifestyle coach and sports nutritionist. She can help you  live a life of true health, love, laughter and freedom. Become the miracle you were created to be! Let Lori Ann King guide you on your journey toward your dreams! Stop living small and contact Lori Ann King now!