As part of an assignment this week, I watched Door To Door, a 2002 movie about
Bill Porter (William H. Macy), a man afflicted with cerebral palsy, is desperate to find a job despite his condition. He uses his sense of humor, determination and winning spirit to convince a manager to hire him as a door-to-door salesman for Watkins, a supplier of household items and baking products. Porter walks several miles every day on his sales route, eventually working his way into the hearts of his customers. This film is based on a true story.
The assignment was to view the movie and write about 4 key areas of the MKMMA:
DMP – Definite Major Purpose
PMA – Positive Mental Attitude
POA – Plan of Action
MMA – Master Mind Alliance
Perhaps the most predominate theme through the movie was Persistence.  This coincides with our current Scroll III from Chapter of Og Mandino's Greatest Salesman in the World and "I will persist until I succeed."
DMP
Bill Porter had a definite major purpose (DMP) to become a great salesman! His mother talked with pride about how great Bill's father was as a salesman.  He was passionate about following in his father's footsteps, avoiding any kind of assistance or disability help, and later in life, take care of his mom. He was so determined, when he first interviewed at Watkins and was turned down, he asked for the worst route! "What have you got to lose?" he asked, changing the mind of the interviewer and getting the job!
PMA
Bill Porter had a positive mental attitude (PMA). He used humor and charm and was always living the law of giving, often with a joke, or encouragement. His positive mental attitude helped him live in the solution, never focussing on his challenges, and greeting people with love in his heart!
When his mom got sick in her later years, she feared "I'm a burden," to which he replied "Now we're even!"
When a complaint was received about him scaring a little boy at one of his customer's homes, he returned the next day with a puppet, making the boy smile, laugh, and winning an audience with the boy's mom.
When his doctor told him he could no longer make deliveries because of his back, he hired someone to help him.
When a mean guy on Porter's route told him "Don't come back," BIll replied, "OK and Merry Christmas from Watkins!"
POA
Bill had a territory, a street to sell on which he went door to door daily. He was consistent and persistent with daily action, day after day, week after week, year after year. This Plan of Action combined with a heavy dose of persistence helped him to become the salesman of the year at his company.
MMA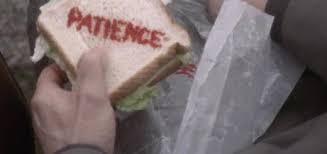 To his master mind alliance, he was always telling a joke! Who was in his master mind? His mom, who left notes on his sandwich, "patience" on one side, "persistence" on the other. There was the man who tied his tie, fastened his cufflink, and another who shined his shoes. Another example of the Law of Giving… a smile, a joke, and even slipping money into their pocket for the help they provided. Eventually he hired Shelly, played by Kyra Sedgwick, who would assist him with his job at at home. And there was a scene of her and her husband advising him. (Although I don't believe he took their advice, they certainly provided him with brainstorming and alternatives.)
It would seem as though Bill Porter had taken the MKMMA course! From his first sale, his mom and he rejoiced, yelling in excitement! And in his acceptance speech as salesman of the year, he proclaimed with ENTHUSIASM  "I love being a salesman!"
I loved this movie and highly recommend, especially to MKMMAers, salesman, but to anyone overall – it will have you smiling, laughing, and perhaps even shedding a tear. It will put things into perspective. Whatever your challenges are, someone out there has equal or harder challenges and is choosing to do it anyway! Someone else is persisting. You can too!
If I persist long enough, I win.
I persist.
I win.