Many people think the path to success is a straight line. The reality is, it's filled with peaks and valleys.
In 2014, I signed up for the 16-week Isabody Challenge. I got super focused. I was all in! I counted down the weeks and days on my calendar. I asked my trainer – Jim King – for help. I felt amazing. I was in the best shape of my life. I was confident I was going to be a Finalist! Peak.
I waited. And waited. Then watched, as one by one, all five finalists were announced. I was devastated. Valley.
Then, the call came in: I was an Honorable Mention. Peak.
During my next challenge, an unexpected surgery sent me into sudden surgical menopause.
Most people associate menopause with hot flashes. No big deal. My experience was different. For the next 18 months, my body, mind, and emotions tanked.
I couldn't sleep. I couldn't focus. I had no drive, passion or purpose. Despite doing everything I had done in the past, I gained weight. I went to doctors looking for answers. They told me to adjust my perspective; this was all part of aging.
I lost hope. Valley.
I felt old beyond my years and before my time. I lost my sense of vitality and well-being. Valley.
Rock bottom came during a fight with my husband. At my lowest point where I was feeling my worst, I lashed out, accusing Jim of not being there for me. HE had disappeared.
To which he replied, "What? Are you kidding me? Lori, YOU disappeared!" Valley.
I was scared. Scared of losing the best thing in my life; the thing I'm most proud of. My love. My marriage. My partnership with the most amazing man. Valley.
In the valley, we grow, change, and commit. We find our grit.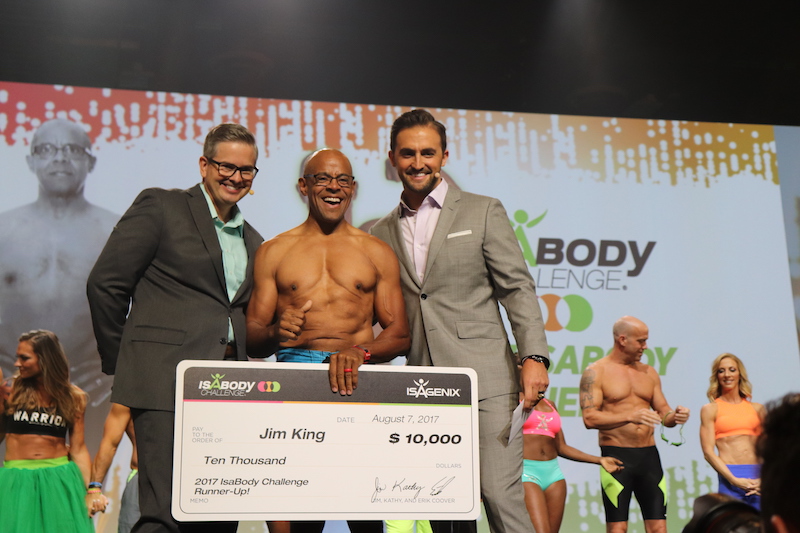 A few weeks later, our friend Randie Peters was announced as a 2017 Finalist. Game on! We recommitted to the Challenge. During that 16 weeks, Jim became a Finalist (and then Runner-Up).
Jim's body responded quicker than mine. Now he was on the mountain peak, and I was still climbing.
But you know what? The best view comes after the hardest climb. I am blessed to be surrounded by finalists, the Isabody Corporate team, and Facebook group members who are climbing their mountains and facing their valleys. Each of them has cheered me on. "Don't give up. Keep going. You can do this."
And, I believe them! #BrickByBrick with #NoMoreExcuses I believe them when they say #YesYouCan.
The community of support is the mountain peak. Humans long for love and connection. We have that with IsaBody. This community inspired me to find my confidence, my smile, and my six-pack!
I am grateful for our products to help with brain fog, better sleep, and weight wellness. I've had success with performance. I'm now experiencing vitality and well-being.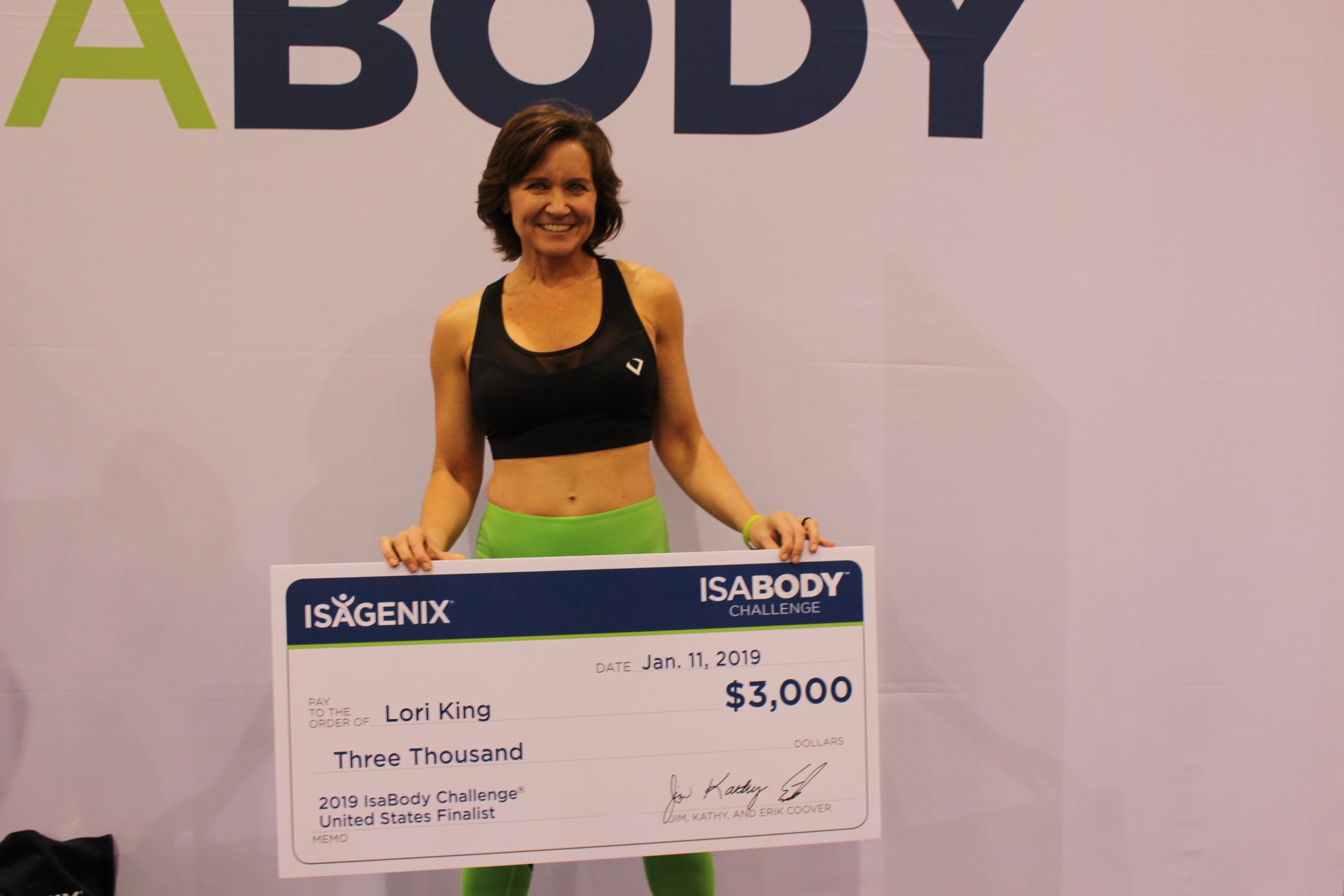 The average woman goes through menopause at 51. For me, it hit at age 43. Doctors were unsympathetic about my weight gain. In 2018, menopause is still a taboo subject. We're told, it's just part of aging, accept it.
Is weight loss harder as we age? Absolutely. While doctors tell us to accept the side effects, Isagenix comes alongside us to say, you can change this if you want to.
Regardless of where we are, the peak or the valley, we can continue to rise. We can continue to climb each and every mountain before us. Regardless of where we are, we can #ComeBackStrong.
Update:
This essay was written as part of my 13th IsaBody Challenge. Combined with my before and after photos, I was recognized and honored to be selected as 1 of 15 2019 IsaBody Finalists. PEAK
But here is the deal:
We are 15 regular people… JUST LIKE YOU!!! who each made a DECISION to improve our health with our Superfood Nutrition! We joined the 16-week IsaBody Challenge to hold ourselves ACCOUNTABLE…
And BAM!!! 💣💥💥💥 As A RESULT… we've each experienced life-changing transformations.
We were chosen as the 2019 US IsaBody Finalists and won $3,000!!! 🏆💰🏅
Our company paid all expenses for each of us (and a guest) to attend our NYKO Event in Phoenix earlier this month!
We went on a private tour of our beautiful, state-of-the-art World Headquarters.
We were celebrated at the IsaBody Finalists Awards Dinner.
We had photo shoots and interviews, and were recognized on stage in front of 6,000 of our closest friends! 🤗
Eric Chen was chosen as our 1st Runner Up and awarded $10,000 and Jennifer Zepeda Riveira is our 2019 US Grand Prize Winner and was awarded $25,000! 🏆💰🏅
It is a blessing and honor to represent the most amazing health and wellness company in the world as a 2019 US IsaBody Finalist along with 14 of my new best friends!!! 💙🌟🙏🏻✨✌🏻
What comes NEXT? 🤔 Together… 👭👫👬 We will continue to share our stories and inspire thousands to have their own physical and financial transformations!!! 👊🏻🌟🙌🏻🌟💪🏻
And… In April, We Are Off On An All-Expenses Paid Escape To Costa Rica (for each of us and a guest).
I am thoroughly enjoying every aspect of this experience. There are still daily peaks and valleys. There always will be. That's just LIFE. But so much is perspective and how we choose to look at things.
The friendships and support I've gained along the way are absolutely priceless. During the valleys, they are still cheering me on. And on the peaks, they are celebrating with me!   

And you know what? We are holding a place for you. Whether you are seeking physical or financial freedom, we have solutions! We will rally behind you and cheer you on to your own victories. We are only a text, email, or phone call away!
I believe in YOU!
With love, gratitude and kindness,
Lori
#PeaksAndValleys
#ComeBackStrong
---
Additional reading:
From my blog:
In other News