Come Back Strong
for Book Clubs, Women's Groups, or Virtual Events.
Women have the opportunity to support each other, celebrate victories, and share struggles. Yet so often, we choose to go it alone, stuffing our pain and hiding life's challenges.
It doesn't have to be that way.
We can choose to be stronger together. To help each other through the tough times and to spread joy by sharing and celebrating the good stuff of life. 
That's why I created the Reading Group Guide to go with my book, Come Back Strong, and/or my bite-size course: Balanced Wellness. Chapter by chapter, it dives deep into questions that will empower women to connect on a deeper level as they uncover universal truths and common themes centered around hormone health, self-care, and issues specific to women.
Here is a glimpse of some of the questions you'll find in my Reading Group Guide :
Have you struggled hormonally throughout your life with PMS, fibroids, endometriosis, cramping, heavy bleeding? How has it disrupted the quality of your life? 
"Menopause intensifies things that are out of balance. If a woman is struggling with her weight, finances, career, purpose, another illness, passion, focus, or drive, (surgical) menopause will make each of these issues more obvious and extreme." Do you agree?  Why or why not? Give an example.
What is one way that women can be more supportive of each other?
Have your emotions ever caused you to lash out at someone? How did it make you feel? Did it cause lasting damage to you or someone else?
Take a few minutes to think about the things in your life that are stressful. Can you see where a cumulative build-up of stress is affecting your life? How?
What's your experience with anxiety or depression (example: personally struggled, know someone, learning about it)?
Think of a time you enjoyed being physically active. What were you doing and who were you with?
Can you list examples of women in midlife and beyond who are doing remarkable things? What do you admire most about them?
When your life has purpose, you have unlimited energy and joy. What excites you about your life? What aspects of your life steal your joy? 
What is something you are passionate about? 
The Come Back Strong Reading Group Guide is the perfect fit for your book club, women's group, or virtual event. Where can you talk about graceful aging, health challenges, self-care, and stress along with the exploration of passions and purpose?  For most women, it's often within their own circle of friends.
If you are reading Come Back Strong with your book club, please contact me with the date, time, and zoom link for your book club meeting because I want to crash into some of them!
---
Additional Resources:
From my blog:
Book or Course?
Book clubs aren't limited to just books! Some participants are avid readers. Others, not so much. Some people learn better through video and audio. They can still participate in your discussion. Check out my bite-size online course, Balanced Wellness During Menopause available at Living Life More Abundantly!
Buy Now: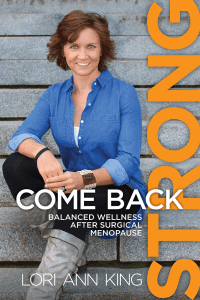 Buy Now: What Your Doctor May Not Tell You About Menopause, by John R. Lee, MD
Buy Now:  The Wisdom of Menopause, by Christiane Northrup, MD
Buy Now: A New Way to Age: The Most Cutting-Edge Advances in Antiaging, by Suzanne Somer
Buy Now: Come Back Strong, Balanced Wellness after Surgical Menopause, by Lori Ann King
---
This post contains affiliate links. For more information visit my Affiliate Disclosure page.