A recent Google search about self-care month and day led to some confusing results:
Self–Care Awareness Month is in September

24 June marks the start of Self-Care Month

National Self-Care Week is November 13 – 19

National Self-Care Day takes place on April 5

July 24th is International Self-Care Day



While Google may be confused, I know that self-care is a beneficial habit to be practiced any day, week, or month of the year.
But what exactly is self-care? What is its importance? How does it impact mental health? And what are the latest top 10 tips for optimal physical, mental, and emotional health?
Self-care Definition
According to the World Health Organization, "Self-care is the ability of individuals, families and communities to promote health, prevent disease, maintain health, and cope with illness and disability with or without the support of a health worker."
Doctors, surgeries, and medications are important for maintaining health and preventing disease. Self-care is our contribution to our own happiness and well-being. It is how we partner with our doctors and medical support team to live the highest quality of life we desire.
Types: Physical, Mental, and Emotional Self-care
There is no right or wrong way to practice self-care. In fact, it can be different for everyone and can be physical, mental, or emotional.
Physical
Physical self-care can be reactionary, like taking time off when you're sick. It can also be proactive and preventative as you take care of your physical health on a regular basis. It includes nutrition and exercise.
Staying hydrated and eating a balanced diet allow you to fuel your body and your life. It may mean eliminating caffeine, alcohol, or sugar from your diet or adding in extra vegetables, lean protein, or vitamins/supplements.
Different people require different forms of exercise. Yoga can be calming and healing to someone who sits at a computer all day. Cycling or kickboxing can provide a release from stress and anxiety. Rest is also a powerful component of physical self-care. Knowing when our body needs movement and when it needs rest requires a strong component of intuition and self-awareness as part of a self-care practice.
Mental
When life gets busy with family, school, work, and day-to-day stress, it's easy to drop self-care. But this can result in a cumulative build-up of stress. The ability to quiet your mind through mental self-care can be found through reading, doing something creative, detaching from technology, or even decluttering an area of your home.
Emotional
Meditation, journaling, and practicing gratitude and affirmations are all ways to maintain and improve our emotional self-care. And while talking with a close friend can feel therapeutic, it's also acceptable and wise to seek help from a professional therapist or counselor.
Self-care and Mental Health
According to Mental Health First Aid from the National Council for Mental Wellbeing, depression rates tripled during the COVID-19 pandemic. Furthermore, "engaging in a self-care routine has been clinically proven to reduce or eliminate anxiety and depression, reduce stress, increase happiness, and more. It can help you adapt to changes, build strong relationships, and recover from setbacks."
The Importance of Self-care
Self-care is especially important during challenging times, including: divorce, disappointments, failures, abuse, injuries, surgeries, illness, major moves and job changes, global pandemics, the death of a loved one as well as the death of a dream.
Any of these types of challenges or transitions can be a wake-up call to rest and create healthier habits. It is also important as a maintenance and preventative measure. Setting boundaries on our time and energy and learning what we need in our life to feel calm and joy can help us to relieve the stress, angst and chaos of our busy world. Exploring our passion and purpose by living in our curiosity can create an overall sense of happiness and well-being.
5 Benefits of Self-care
In 2020 Vagaro created an online survey of over 2,000 Americans that discovered that the benefits of self-care include
Boost to self-confidence

Increased productivity

Happiness
Your Mental Health Pal suggests that self-care also has additional benefits such as
Stress reduction

Improved work-life balance

Strengthening your immune system‍
Top 10 Self-care Tips
As an Introvert and Highly Sensitive Person (HSP), I have learned that self-care is non-negotiable. Here are my top 10 tips for living a life of true health, love, laughter, and freedom:
Move your body.

Fuel your body/Hydrate your cells.

Practice gratitude.

Sleep. Rest. Recover.

Seek silence.

Find some creature comfort.

Go outside.

Laugh with intention.

Get creative.

Seek peace in relationships/give and receive support.
And while I'm usually not an advocate for multi-tasking, this is one area where combining any of the above can be beneficial. Let's face it, we only have so many hours in a day and so many priorities. Work, family, socializing, fitness, faith-based activities, and school (for you or a loved one) can all fight for your attention.
Consider combining your passions, priorities and obligations:
Schedule a walk or bike ride with a partner or friend

Go to a painting or ceramics workshop with a girlfriend

Suggest volunteer work, golf or a softball game as a teambuilding activity with coworkers
Self-care is not selfish. The definition alone suggests that it is an effort by individuals, families and communities. Living a life of health and well-being means practicing self-care on a regular basis, making it intentional, and knowing what it means to you. The benefits far outweigh the time and effort toward happiness, productivity, and lower stress levels.
---
Additional Resources:
From my blog:
Visit my store and get your copy today
Wheels to Wellbeing is all about learning YOUR BEST options for self-care. It will help you examine the spokes on YOUR wellness wheel. It's Life Lessons from a Highly Sensitive Introvert.
Special discounts when you buy from me at my store.
---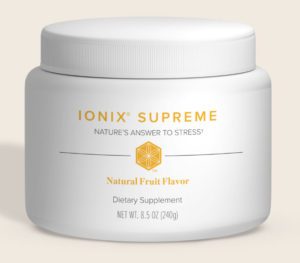 Ionix® Supreme
Your body and mind crave balance. But finding it isn't always easy, especially in an increasingly noisy world. Turn down the volume on the world with this nutrient-rich, adaptogenic tonic†. Because when you can't find your balance, you can always make it with Ionix Supreme.
Adapt naturally. Made with natural adaptogens like ashwagandha and rhodiola.
Stay away, fake stuff. No artificial flavors, colors, or sweeteners.
Pick your antidote. Liquid, powder, or convenient individual sticks.
With love, gratitude, and kindness,
Lori