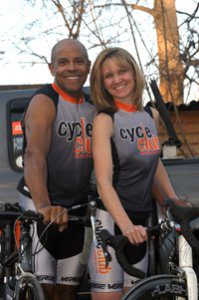 My husband, Jim, and I love road cycling and over the years, we've had the opportunity to ride with many people of all levels and skill sets, from amateur to pro. It's one of our passions and a great form of exercise and physical activity as part of a healthy lifestyle.
I recall one warm day in the Hudson Valley of NY; we met a friend after work to go for a ride. As soon as we met, Jim said, "How are you?" She launched into a 20-minute complaint about everything that had gone wrong with her day and, overall, what was wrong with her life.
I remember thinking, "If he had only waited to ask her AFTER our bike ride. He may have gotten a very different response."
Benefits of Regular Exercise That Go Beyond the Physical
Regular exercise is a great way to improve or maintain physical health. But it also has wonderful mental, emotional and social benefits. It
can help you release stress after your workday.
clears your mind midday, allowing you to return to work more focused.
is a great activity to build relationships with family and friends.
can even help relieve angst during an emotional time.
According to the Mayo Clinic, regular exercise can help with
Weight Loss
Combatting health conditions and diseases, including heart disease
Improving blood pressure
Improving mood
Boosting energy
Promoting better sleep
Putting the spark back into your sex life
Adding FUN and socialization to your life!
These are pretty great reasons to make physical activity a daily habit.
How to Create Healthy Habits
Many of us struggle with implementing exercise habits. Obstacles include lack of time, needing accountability, or the simple fact that change is hard. Here are a few tips to overcome these obstacles and add more physical activity to your exercise routines.
Start with why. Define your goal and journal your reason for adding exercise to your healthy lifestyle. It could be to release weight, lower your blood pressure, increase your energy, look great for a reunion/holiday/special event, or to reduce the risk of heart disease or other illnesses.
Share Your why. When you share not only your goal but your reason for exercise, you allow people to support you and your efforts instead of sabotaging you.
Find something you love to do. Consistently exercising is easier for me because I LOVE to ride my bike. To find a form of movement you love, live in your curiosity. Try a local fitness class, join a softball/volleyball/soccer league, take a hike, or try pickleball.
Grab a friend. Exercise can be combined with nurturing important relationships. A family day can include a 5k walk/run for charity or miniature golf; friendships can be centered around a hike or ice skating; even your spiritual life can combine prayer and meditation with a walk in nature.
How To Make Exercising a Healthy Habit When You're Out Of Shape
Sometimes getting started is the most difficult part of creating healthy exercise habits. This is where knowing your why, sharing your why, finding something you love to do, and partnering with friends or family members with similar goals for accountability can be assets. If you know you're meeting a friend at the gym or for a bike ride, you'll be much less likely to cancel your workout.
How to Start a Workout Routine At Home
Exercise also doesn't have to be expensive. There are plenty of ways to start an exercise program from the comfort of your own home or neighborhood:
Walk/hike
Calisthenics
Jump rope
Yoga (guided through a free YouTube video)
TRX (exercise using your body weight and a TRX apparatus for minimal cost you can take anywhere)
Join an online fitness class
Five Exercises to Do Everyday
Kaiser Permanente lists more than five simple exercises you can do at home, including:
Squats for your legs, stomach, and lower back.
Lunges for your upper legs and glutes.
Planks for your core, back, and shoulders.
Push-ups for your chest, shoulders, triceps, and core.
Pull-ups for your biceps, triceps, forearms, wrists, shoulders, and core.
Conclusion: What to Do Next
Exercise may not be part of your daily routine.
Yet.
But you can start an exercise program today and redefine what exercise means to you. Live in your curiosity while you find ways to move your body in ways you enjoy. Discover the time of day that works best for you. And if you are short on time, combine movement and activity with relationships by partnering with a friend or family member to try something new.
---
Transform
You can love your body and want to change it.
Transforming your body is tough—whether you want to lose weight, gain lean muscle mass, or simply age more gracefully. Why? Because health and wellness is a triangle comprised of three key components: exercise, nutrition, and mental strength. ​​Your success at transforming your body boils down to that third piece of the triangle: your mental strength. And your mental strength determines whether you will comply with exercise and nutrition.
Lori Ann King has a keen understanding of the mind-body component involved in transforming your body. She survived her own obstacles and setbacks along her journey to becoming a finalist in a sixteen-week transformation challenge. King will help you
discover what you want to change and why you want to change it;
gain support, not sabotage in your transformation quest;
learn to be more intentional with your thoughts and habits;
observe what habits support your goals and what lead you away from them;
become the hero in your own life.
"When you buy from me directly from my store, you help me make a dream come true – PLUS, you pay a discounted price (since I don't have to give Big Tech a cut)! 

Buy Transform
---
AMPED™ Hydrate
Whether it's running a marathon or just Saturday errands, good hydration is for everyone — not just athletes. Which means the electrolytes and vitamins and minerals in every sip of AMPED™ Hydrate are made especially for you. Your turn to be a hydration hero.
Renew and replenish. Get back the nutrients and fluids lost during daily activity.
Quench more than just your thirst. Satisfy your body's craving for essential vitamins and minerals.
Ready for anything and everyone — including kids ages 4 and up.
Hydration hero. 0 grams of sugar and 20 calories or fewer.
---
Cheap energy shots are everywhere. A plant-based energy shot with naturally sourced caffeine, epic adaptogens, and no synthetic sugars? Let's just say your long search for high-quality energy is over.
Are you the kind of person who gets their nutrition at a gas station? Didn't think so. This is elevated energy. Mother Nature's clean caffeine. Fuel up on the good stuff.
Do more. Fuel your workout and your everyday.
Midday, meet all-day. e+™ is energy now and for hours.
Squeaky clean. No artificial flavors, colors, or sweeteners.
Sustain. Crashing and burning is for dating apps, not your energy shot.
Share the Shot®. A movement so rad it got trademarked.
With love, gratitude, and kindness,
Lori