Home is knowing.

Know your mind, know your heart, know your courage.
If we know ourselves, we're always home, anywhere.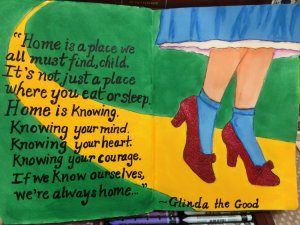 Do you remember one of the the final scenes from The Wizard of Oz? After searching high and low for a heart, courage, knowledge (a brain), and home, Dorothy learns that what she is searching for, she already has inside her. 
Glinda the Good:
Well, Dorothy, you were wise and good enough to help your friends to come here and find what was inside them all the time. That's true for you, also.
Dorothy:
Home? Inside of me? I don't understand.
Glinda the Good:
Home is a place we all must find, child. It's not just a place where you eat or sleep. Home is knowing. Knowing your mind, knowing your heart, knowing your courage. If we know ourselves, we're always home, anywhere.
What if everything I'm searching for has been inside of me all the time?
I AM
[one_fourth_first]
Strong
Confident
Calm
Radiant
Lovable
Lean
Pleasant
Organized
Happy
[/one_fourth_first]
Powerful Courageous Independent Empowered Loving Peaceful Abundant
Prosperous
Successful
Effective Productive A leader A team builder Disciplined Healthy Brave
Kind
Fun
Kind Enthusiastic Decisive Imaginative Persistent Unique Relaxed
Harmonious
Free
I am WHOLE, PERFECT, STRONG,
POWERFUL, LOVING, HARMONIOUS and HAPPY!
I am nature's greatest miracle!