What excites you?
What is something you dream about doing…that something that makes you smile or laugh or maybe it is something you want so bad, but maybe you have given up on?
What is something that makes you cry?
What did you LOVE doing as a child?
I've asked these questions in front of a live audience and I'm sad to say that I often get the "deer in the headlights" look from the people gazing back at me.
It's as if they've waited so long for someone to ask them questions like this… for someone to truly see them, dig into their soul, and fully listen without judgment. As they begin to share, it's as if they are working out the details and speaking their dreams into existence.
Often people respond with "I don't know." Life has gotten so busy and they are so caught up in "adulting" that they have forgotten earlier dreams of what they really want.
And, maybe you don't know what you want, but I dare say you do.
You just aren't taking the time to get quiet and listen to your heart's desire or
You know your heart's desire and you're scared that people will judge or criticize you, tell you it's not logical, or even make you feel you need to defend yourself and your dream.
"Things that aren't logical are the things
that make our dreams come true. "
~ Jessica Mull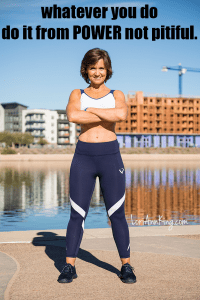 My husband and I recently had a profound conversation. It was about some big life stuff. He said something like "I don't care what you want to do. I don't care what you decide as long as you do it from a place of power. Stay in your power and I will support you 100%. I got you!"
To say that statement was life-changing is an understatement. Too often I've moved into a disempowered perspective. The one where I'm wearing the victim hat and I'm filled with excuses, being overly dramatic, leaning into the sadness, and doing more than my share of complaining, blaming, and whining.
That's never who I want to be. It doesn't serve me and it doesn't help me to serve or inspire others.
Since that conversation, I've made a promise to myself to live this year truly following my bliss and doing more of what makes me happy. I'll be taking big leaps of faith and trusting that opportunities and solutions will show up.
I'll spend more time on my paddleboard because when I'm in the water surrounded by God's beauty, I feel all the world's tension and noise and problems melt away.
I'll spend more time on my bike where I can feel exhilarated and exhausted and free.
I'll write more. Another epiphany that came recently during a Sit (my form of meditation) was that the book I'm writing about Life Lessons from the Bike doesn't have to be so profound. It can be fun and playful and whimsical. it can be a collection of short stories – Cycling Shorts – that bring a smile to people's face as they reminisce of their own childhood. Thanks to Nancy O. for the confirmation as literally just moments later, she asked me about this book. She reminded me that she is waiting for it and can't wait until I write my next book.
I'll enjoy more food with friends and family this year. Food, diet, and healthy lifestyles can be extremely diverse and we can over complicate them. It doesn't have to be that way. Burger bars shish kabobs, salad or green bowls, and even pizza can all be presented buffet style in a way that meets everybody's needs, from gluten-free to dairy-free, soy-free, Paleo, Keto, and caveman!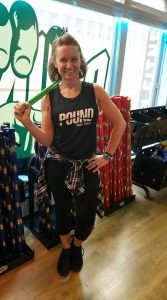 Finally, I am releasing my inner rockstar! A few weeks ago, a friend introduced me to POUND®. I immediately fell in love. I took over 8 classes in just over 2 weeks.
Then last Saturday, I traveled to New York City to get certified as a POUND® Pro.
This summer I will be teaching POUND® classes as part of the follow my bliss project. I wasn't sure where or when or how it would unfold. I still don't. But I reached out to my friend and fellow author, Buddy Valentine. We've been cheering each other on for years over our writing.
Well, Buddy is also is in charge of scheduling the fitness classes at BSP in Kingston, NY. I sent him an email describing POUND® and asked if he'd consider adding it to the schedule.
His response?
omg yessss!
So you've heard about me and what excites me. Now, back to you.
What are you doing to live in TRUE HEALTH?
Who are you showing more LOVE?
How do you get your daily dose of LAUGHTER?
Where can you create more FREEDOM in your life?
When will you BALANCE your life with more PLAY, more REST and LESS work?
Why are you doing every single thing that you're doing?
That last one is a game changer.
Do an audit of yourself and your life. Is what you're doing exciting you? If not, then isn't it time you found something that does?
---
Additional Reading:
From my blog:
Other Blogs:
Resources – Buy Now (affiliate links):